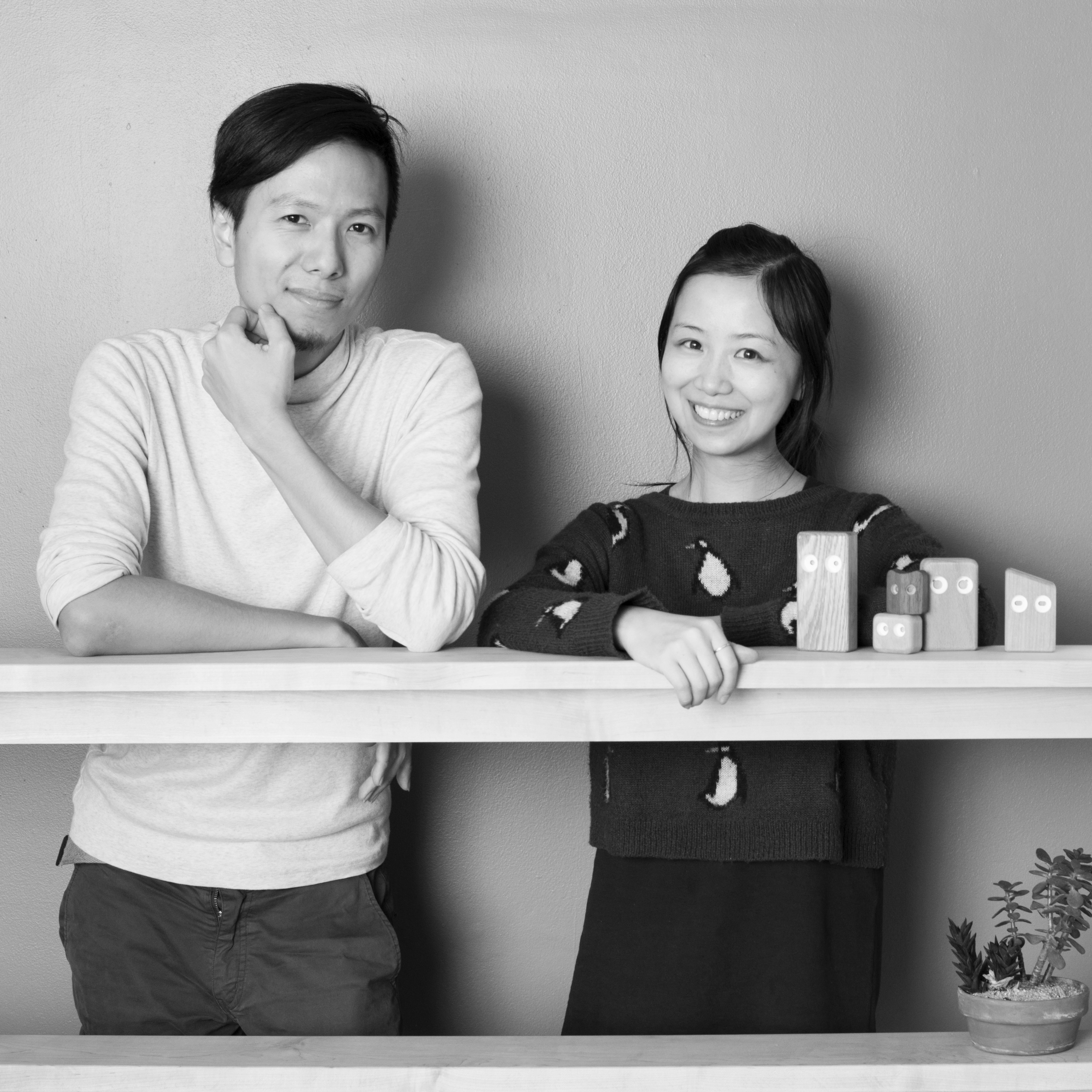 Hyfen / HCWD Studio
Exploring new possibilities of human behaviors through object & space design.
Hyfen is a design collection of home goods, furniture, lighting and accessories, created and curated by HCWD Studio and collaborated designers worldwide, focusing on bridging human sense, physics, material and geometry, looking into the essence of routine subjects, extracting the critical elements from others, and linking them together to create strange-familiar new objects that recompose how we interact with environment and daily life.
Hsin-Chun Wang & Ye Liu, founders of Hyfen, are based in New York City. They are one of the 50 Young Professionals of Red Dot 2016, 2016 Best Designers/Best Design Studio from International Furniture Fair Singapore and the nominees of German Design Awards 2016. Their studio practices in art, furniture, lighting and space design. Their works strike to rediscover the using experience of daily object, and redefine the relationship between human scale, space and landscape. They work at the intersection of functionality and sensibility, dedicate to integrate elegant form with sense. They refine details and follow the nature of material with challenging ideas to create design with meanings and to provide solution for improving.
Three key words: minimal, elegant, intuitive
Team Leaders
Ye Liu
Founder and Creative Director of HCWD Studio. She received a B.A. Degree from Tongji University and a M.ARCH degree from Cranbrook Academy of Art. During the career in China, Ye worked for Ai Weiwei from 2005 to 2007 and then joined Arata Isozaki Associates as an architect. After that, she became the senior project designer at Atelier Liu Yuyang Architects and took the lead of several development projects at East Nanjing Road in Shanghai. After came to US and graduated from Cranbrook Academy of Art, she went to RTKL Washington DC Office and Tsao & McKown Architects in New York. She worked and participated in architectural and interior projects from the US, Brazil, Taiwan, Hong Kong and China. Ye's exhibition design project, when she was at Tsao & McKown, Beauty – Cooper Hewitt Design Triennial was on view at Cooper Hewitt Design Museum in 2016. She was invited as guest critic at many universities and also teaches at University of the Arts as Lecturer of Master's Product Design.
HsinChun Wang
Born and raised in Taiwan, HsinChun Wang enjoys experiencing different lives and cultures, favorites in contemporary art and logical thinking. After received B.S. degree in Industrial Design in National Cheng Kung University, he worked for DID Institute as industrial designer in Taipei from 2002 to 2005, then came to US for further studying in art and design at Cranbrook Academy of Art. From 2010, he worked as senior industrial designer for Zeikos Inc., at the same time started his own practice in design and had his works selected to exhibit in Frankfurt, Taipei, Michigan, New York, and Shanghai, in 2014, he co-founded HCWD Studio. He also teaches at University of the Arts as Program Director of Master's Product Design.
[/vc_column_text][/vc_column][/vc_row]
Exhibitions & Events
2019 Design Pier, Brooklyn, NY, USA
2019 Wanted Design Launch Pad, New York, NY, USA
2019 Note Series at OnTimeShow, Shanghai Fashion Week, Shanghai, China
2019 Design Shanghai, Shanghai, China
2018 Collectible Design at Pun Project, Hong Kong, China
2018 "Stay With Me" 100 Chair Show at Fuxing Park, Shanghai, China
2018 "Art, Design & Life" at 0+23 Space, Shanghai, China
2018 Contemporary Hall, Design Shanghai, China
2017 "Craftsmanship and Tradition" at Crossing Collective Gallery, NY, USA
2017 ICFF New York, USA
2017 "Hello New Yorker" TV interview with Sinovision Chinese Channel, NY, USA
2016 ICFF New York, USA
2016  "Hyphenated Design" speech hosted by SingaPlural, Singapore
2016 Design Stars, IFFS, Singapore
2016 "Fusion Power", Art & Design, West Bund Art Center, Shanghai, China
2015 "We Talk" TV interview with SinoVision English Channel, New York, USA
2015 "Design in North America" TV interview with Hainan Travel Channel, New York, USA
2015 "New York Conference Room" TV Interview with SinoVision Chinese Channel, New York, USA
2015 "I WANT THAT" TV program introduction of Brick Lamp with Fog Edge Media, Maryland, USA
2015 "Greenhouse" at Stockholm Furniture & Light Fair, Stockholm, Sweden
2014 "Design of Designers" at China International Furniture Fair, Shanghai, China
2014 ICFF New York, USA
2012 Panel Talk Series at "10+1 Talents" in Tendence, Frankfurt, Germany
2012 Invited exhibition "10+1 Talents" in Tendence, Frankfurt, Germany
2011-2012 Invited Exhibition "50 Manners" at Dian Shin/Design Refreshment, Taiwan
2010 "Out of The Woods" at Museum of Contemporary Art Detroit
2010 Selected "Talents" in Ambiente, Frankfurt, Germany
2010 "Solar Panel", Selected Piece in Chair Show 2010,  Cranbrook Academy of Art, Michigan, USA
2009 Innate Gestures at ICFF, New York, USA
Achievements & Awards
——————————————————————————————————
2017 "Best Design of 2017 Golden Pin Design Awards", Taiwan
2017 " Short-listed" of DIA, Design Intelligence Award, China
2016 "Best Designer/Best Design Studio Award" of IFFS, Singapore
2016 "The 50 Young Professionals" of Red Dot Awards, Germany
2015 "Excellent Product Design" Nominee at German Design Awards, Germany
2014 "Best Furnishing Design" of Gold Idea Design Awards, CNFA, Shanghai, China
Press & Media
——————————————————————————————————
2018 Issue 5, Interior Design China
2018 Issue 4, LOHAS Magazine, Shanghai, China
2017 Issue 12, RUM Magazine, Denmark
2017 Issue 10, Interior Design Fall Market Tabloid
2017 Issue 3, Interior Design Spring Market Tabloid
2017 Issue 2 & 3, Modern Decoration Magazine, Shenzhen, China
2017 Issue 2, US China Press, New York, USA
2017 Daguan Weekly
2016 PRODUCT MINIMALISM– SendPoints Publishing
2016 ] Issue 6, Mondo Magazine, India
2015 Issue 6, LOHAS Magazine, Shanghai, China
2015 Issue 4, ICON Magazine, London, UK
2015 Issue 3, The Bund Magazine, Shanghai
2014 Issue 12, Crossover Design Magazine
2012 10+1 Talents, Germany
2011  WISH for the future, Taiwan
2010 Issue 61 MONITOR, Europe
2010 Issue 5, PACE Interior Beauté magazine, Hong Kong
2010 Feb issue, Neue Welle, H.O.M.E. Magazine, Germany